I can only attempt to communicate what a pleasure it has been to bring this bike into my life. From the first experience of speaking with Tom on the phone, through the 3 hrs we spent on the fitting, the little adjustments he made to my existing bike, too small for me to believe that would have made a difference, and yet they did, through the building process, Tom took care of my and my bike with commitment and clarity. He is a man of what has often seemed a dying breed, the true gentleman.
It has been truly a privilege to work with Spectrum. And now the ride: It is fantastic. I have ridden with a little bit of a load, not much yet, but I will get there, and ridden it unloaded and the ride is smooth, the handling gentle and confidence inspiring. I have gone out without cycling clothes, just put on shoes and hopped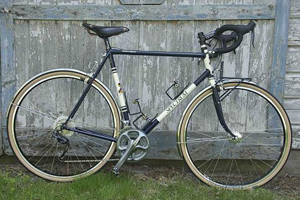 on, gone shopping, done some climbing. I love the ride. This will be the number one choice for all easy riding and relaxed long distance. What I haven't done yet is the long distance. The headlight comes this weekend and then the overnight riding begins.
The Spectrum attention to detail is staggering. The one of a kind cable routing that makes room for the front bag, the detail of how the front bag mounts with a quick release pin and is perfectly stable, the absolute smoothness of the paint, make this as much fun to look at as ride.
Thank you Tom. It is a privilege to have made your acquaintance … and Jeff, your craftsmanship will be put to use for many years and many tens of thousands of miles.
Now, I just have to bring myself to take it out in the rain. That is what it was designed for, after all!
-Doug

When the time came for a new bike - by which I mean when the "I want" in my head pinned the "I shouldn't" and held it motionless for a ten count - I knew there was only one place for me to go. I have the good fortune of living in the Lehigh Valley, and Tom Kellogg's barn is short left hander off one of my favorite routes.
My old ride, a sweet Orbea Orca, was a delight largely because Tom had taken the stock set up I had and fitted it to my body as best he could. I rode - and loved - that bike for 6 years, but by the middle of last season, I had started to be able to gauge the grade of a climb by the volume of the creak coming from my bb shell. I thought about just buying a new Orca or some similar carbon wonder bike that was so light and stiff that after a ride, I'd be able to use it as a zeppelin. But then I thought about what Tom had done to my Orca using nothing more than a tape measure, an ancient angle measurement tool, and his eyes and decided that if I was going to do my part to stimulate the economy, I'd do it right.
I drove out to Tom's barn in March for a fitting. I rolled my old bike up his ramp and started to change into my bibs. Tom stopped me. First, he wanted to talk. We spent at least an hour talking about riding styles, metallurgy, goals, stress risers, favorite rides, modulus, miles per week, the qualities of different metals, pain points, carbon economics, my gut, frame feel, more about my gut (I was feeling insecure), colors, designs, logos, fonts, mutual friends, and closed with a consensus that riding a bike was awesome, especially here.
Then I changed and mounted my bike, now affixed to an ancient trainer. Tom took a few measurements, compared them agains the measurements he had of me from a few years back, and took a few more. He sat to my right, and I pedaled. He sat to my left, and I pedaled. He sat on the floor in front of me, hugging his knees like an upset toddler, and I pedaled. Then he told me to stop. Did I have any knee pain, he asked. Why, yes, I said, and I described the ache behind my left knee that had bothered me for years. He asked for my insole and walked away to grab a shop towel and blue masking tape. Before long, he returned with a perfectly folded shim taped to the underside of my insole. That took care of the knee pain. Forever, it seems. I felt like asking him to lay his hands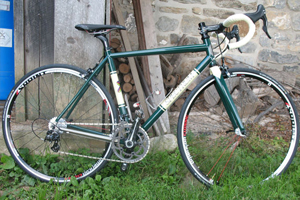 on me and cure my high blood pressure.
When we were done, a couple of hours after I walked in the barn, we had agreed upon a classically paneled British Racing Green and cream fully butted titanium frame. I'd hear from him at the top of July.
And sure enough, I did. (Although, I confess that he heard from me a few times in the middle there.)
I drove out to his barn again, this time with my 11 year old with me. Now, if you have children, you know that 11 year old boys can be hyper critical of their father's taste. But the bike that hung there awaiting me disarmed even his tween sass. Dad, he said, that is gorgeous. I have to agree.
But more than that, it is a beautiful machine. My Spectrum - and now, after a month of nearly daily rides, it is My Spectrum - manages to be both more stable and more responsive than my previous bike. I didn't know that was possible. It disappears underneath me, except when I don't want it to. I'm more comfortable, a little more upright and yet set up in a faster position. Er, how? And when I put my meager power down into the pedals, the bike just goes like stink. I'm not a racer. I've never enjoyed that, but on this bike, I feel like I may change my mind.
My Spectrum and I, we're still honeymooning, I know. But it's going to be a long and beautiful relationship. Thanks, Tom.
-Jeremy

Dear Tom and Jeff,
I rode my new steed for the first time on our regular Sunday group ride and WOW, what a difference! It felt as if it was glued to the road. In the paceline I thought we were doing around 21 mph, but when I looked down, my computer read 24+mph! Although heavier than my carbon Pinarello, it picks up speed just as quick and holds it with the same effort and it corners as if on rails. A bike buddy said I looked very comfortable on the bike. Truly outstanding all around.
Many thanks again for making my custom bike dream come true - you guys are the BEST!
-Louw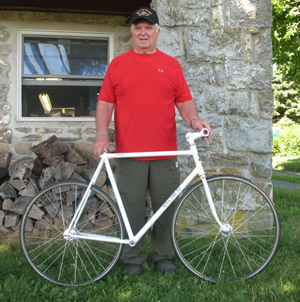 Tom
Still rather speechless, BUT what a great feeling. The bike is even better than I could have EVER imagined, thanks to you & Jeff. You both knew what I was looking for & you achieved everything to perfection.
From talking to you & Jeff today, I could tell that you guys enjoyed building the bike also. None of this new technology give me a track bike, like they were supposed to be built!!! Which you guys did, Thanks again!!!
I'm attaching the detail shots that you took, I brought them into Photoshop & cleaned them up a bit, plus reduced them for web viewing, ie. smaller files. You can see how great they came out, that's why you were smiling as you were taking them.
Thanks again guys, GREAT JOB, enjoy the holiday.
-Bob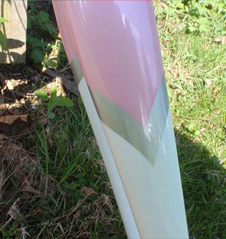 Hi Tom,
OMG…last night I had the BEST ride of my life! Seriously, my new bike rocks! It fits me like a glove and the ride is so smooth. Climbing has never been easier! Thank you so much for building me my dream bike! I LOVE it!
Pete now wants a new bike when the time is right, we will be in touch as he is keen on you building his bike too.
Have a great day!
-Heather